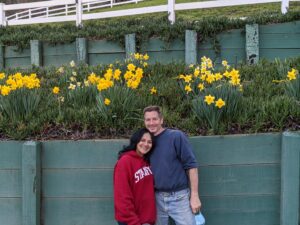 Jon and Gargi Keeling bought Willow Pond Ranch in 2021 and have been working to bring it back to its prior designation as one of the premier horse ranches in the region. The ranch has a long history, starting in the 1970s and has had thousands of happy visitors over the years.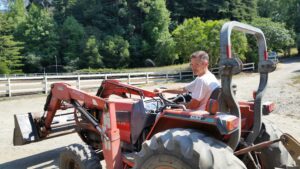 Jon can be seen working on the ranch every day,  harrowing the arenas, fixing things, listening to requests from boarders and the therapy group, pruning the flowers, managing contractors, etc.  Gargi takes care of the administrative side of things.
In 2021-22, they have made numerous improvements to the ranch, including:
Brought in nearly 300,000 pounds of sand to spread out across the two arenas.
Had many trees cut down or trimmed – many proactively – to keep horses, riders and facilities safe.
Improved irrigation, including installing nearly 100 feet of high-quality drain pipes, new drainage boxes and adding concrete drainage ditches.
Hired professional electrician to upgrade covered arena electrical system.
Upgraded sections of retaining walls.
Installed new overhead LED lights and motion-sensor lights.
Repaired pasture fencing, gates and upgrading second bathroom.
Many more repairs and upgrades currently scheduled.